The daisy chain (bead version) is a lovely stitch to create bracelets or anklets … and even a ring. Moreover, you can make it as playful or upscale as you wish, because you may use any type of bead, from glass to gemstone beads and from seed beads size 11/0 to 6x6 mm beads … and once you understand the stitch, you can embellish the result to end up with a very different looking bracelet that does not seem to have any flowers at all.
Idea: create the bracelet in your birthstone or the color of it – for September, see http://dunebeads.com/en/september-s-birthstones-in-blue-from-rest-to-creativity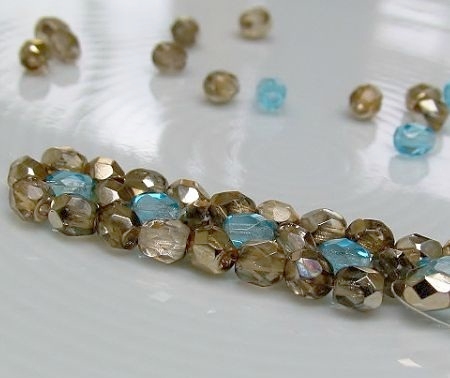 Difficulty:
It is a stitch that will learn you to find your own perfect thread tension. You will need to keep the thread tight with equal tension to create the design, because if there is too much tension, your bracelet will not stay flat and if you do not have enough tension the center bead will not sit nicely in the middle.
Supplies for a bracelet with 4x4 mm beads:
4x4 mm in two colors
6 lbs Fireline thread or S-lon D
size 10 needles
scissors and beading surface
Supplies for a bracelet with 11/0 or 2x2 mm beads:
11/0 seed beads or 2x2 mm beads in two colors
4 lbs Fireline thread or S-lon Aa
size 10 or 12 needles
scissors and beading surface
Weaving instructions Daisy Chain with 4x4 mm beads:
take a comfortable length of thread
leave a long tail end, about 20 cm, to control the tension and to attach a clasp
add a stopper bead (in a different color) and fix it with a knot
pick up 6 beads, or 8 beads if you work with 11/0 seed beads, but always an even number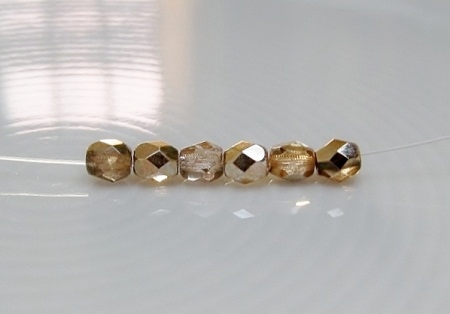 create a loop: go through all the beads till the tail end and continue the circle till the middle bead on the opposite side of the tail end
arriving at 3th beads past the tail end, you pick up one accent bead in another color for the center of the daisy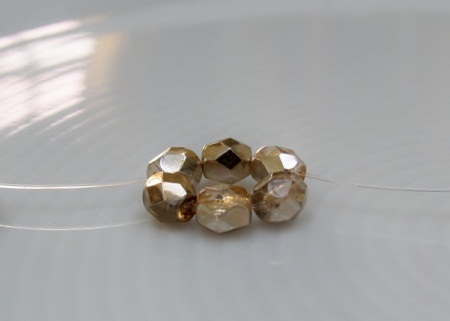 now you have to go back to the tail end and thread the needle through the bead next to it in the opposite direction
consequently, you work on the opposite side in parallel to the bead where you came from
to tighten the structure and the round shape, pull the thread toward you (never away from you)
as a result, the center bead sits right in the middle of the flower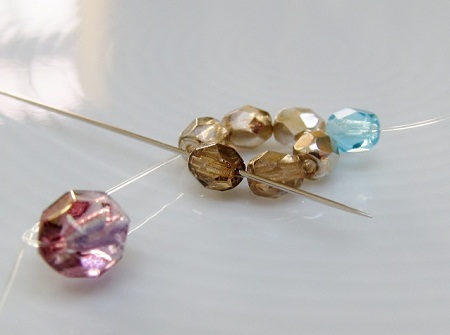 SEE - part 2